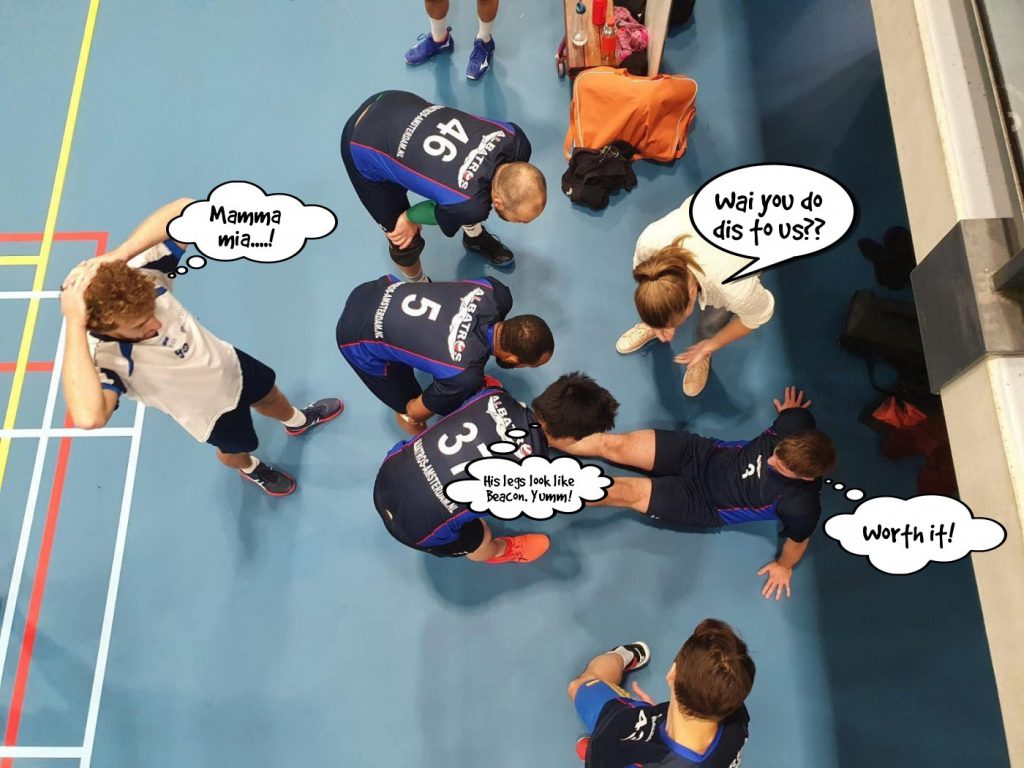 Heren 1 faced Croonenburg HS1 on Wednesday 13 October, an opponent they had never met before. Not knowing what to expect, we started aggressively which paid off immediately. Gaining a huge early advantage we dominated the first set and won undisputedly 25-13.
Second set brought some surprises. Again, we started extremely strong and gained a significant advantage of 8 points which later evaporated in just one set-up. Croonenburg was definitely more aggressive in serving and all of the sudden from 19-11, we went to 24-24. Luckily we had our multi-talented Marat who was used as a substitute to play both middle and outside hitter. We played point by point till we managed to rip the set off towards us winning 31-29. It felt like the end of the match, but we had another two sets to go…
After the shaky second set, the third set was basically a mirror reflection of the first set. Strength in every aspect, good passing, great setting and consequent attack gave us an easy win 25-15.
The fourth set was more competitive. Head to head score till the middle of the set didn't show a clear winner. Then all of the sudden a few great serves in a row gave us a visible advantage. It was 24-21, when Michal, our setter-wannabe-spiker, decided to stay in the left front position, to have golden-hands Hilliard set up the ball from position 2/3. We passed perfectly, Hilliard had his hands up to set the ball and he played it to the middle! Pedro didn't score, and the ball came back. Another opportunity for Michal to finally close the match. As the ball was set to his direction, he flew into the air as high as possible… only to cramp up in the middle of his jump and hit the block! The cramp in his calf was so bad that we had to use an 'illegal' substitution. Andrei stepped back into the field. Croonenburg served, we passed, we set, and we scored. 25-22.
Although we won 4-0, it should definitely have been a smoother win. Second and fourth set brought some easy mistakes which almost cost us the set! We know what to work on, on upcoming training sessions.

M.K and edit from M.d.J